60 activists of the Foundation to Overcome the Vasylkiv Tragedy Consequences NGO gathered under the walls of Kyiv Court of Appeal to recall the horrors of the largest man-made disaster in the modern history of Ukraine, which occurred at the tank farm of BRSM-NAFTA on June 8, 2015.
The Foundation members gathered on the eve of an important court hearing. Tomorrow they promise to gather a more numerous delegation of several hundred persons.
On November 6, 2018, the lawyers of BRSM-NAFTA companies group intend to challenge the seizure of their property and to cancel the trial at the suit of the Foundation members for compensation to the Vasylkiv tragedy victims. The people actively demonstrated passports with Vasylkiv registration and handed out the leaflets with facts about the fire at the tank farm near Vasylkiv. The Foundation members are afraid of the fact that their efforts to achieve a fair compensation and the work they did to collect evidence can be offset by a single judgment.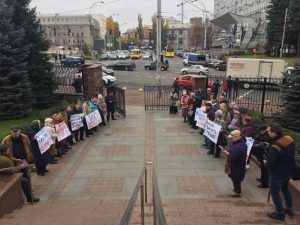 "We do not encourage anyone to make any specific decision! We just want to remind the court about those terrible days when the tank farm was burning and that BRSM owners didn't even apologize to Vasylkiv residents! That is why we are here," commented Tamara Ivanova, a member of the Foundation to Overcome the Vasylkiv Tragedy Consequences NGO.
Mykola Pobochenko, on behalf of all Vasylkiv residents, expressed a concern that the accident could be repeated at another tank farm of BRSM companies group in Pereyaslavsk. "On December 22, 2015, the district fire officers conducted a scheduled facility inspection, or rather two inspections, at the tank farm and gas filling station (GFS). The inspection statement for the first facility contains 51 violations to be remedied urgently, and for the second facility – 56 violations. It was writtenby Dzerkalo Tyzhnia just over a year ago, but the people talked and forgot."
Article by Serhiy Kuiun https://dt.ua/energy_market/viktoriya-vs-brsm-abo-gorbati-y-mogili-2-255556_.html
Let us recall that on September 14, 2018, Desnianskiy District Court of Kyiv granted the statement on provisional injunction and seized the property and cash of BRSM-NAFTA companies group in the amount of the claim totaling about UAH 1.3 billion!
Vasylkiv tragedy is a large-scale man-made disaster caused by explosion and subsequent ignition of oil at the tank farm near the village of Kriachky, Kyiv region, which began June 8, 2015 and lasted for 8 days. The fire killed 6 persons, injured 14, and thousands were recognized ass victims. This is the biggest disaster in Ukraine after the Chernobyl accident.